Europas Bästa Arbetsplatser 2021 – Vi är en av dem!
Postad: 2021/09/21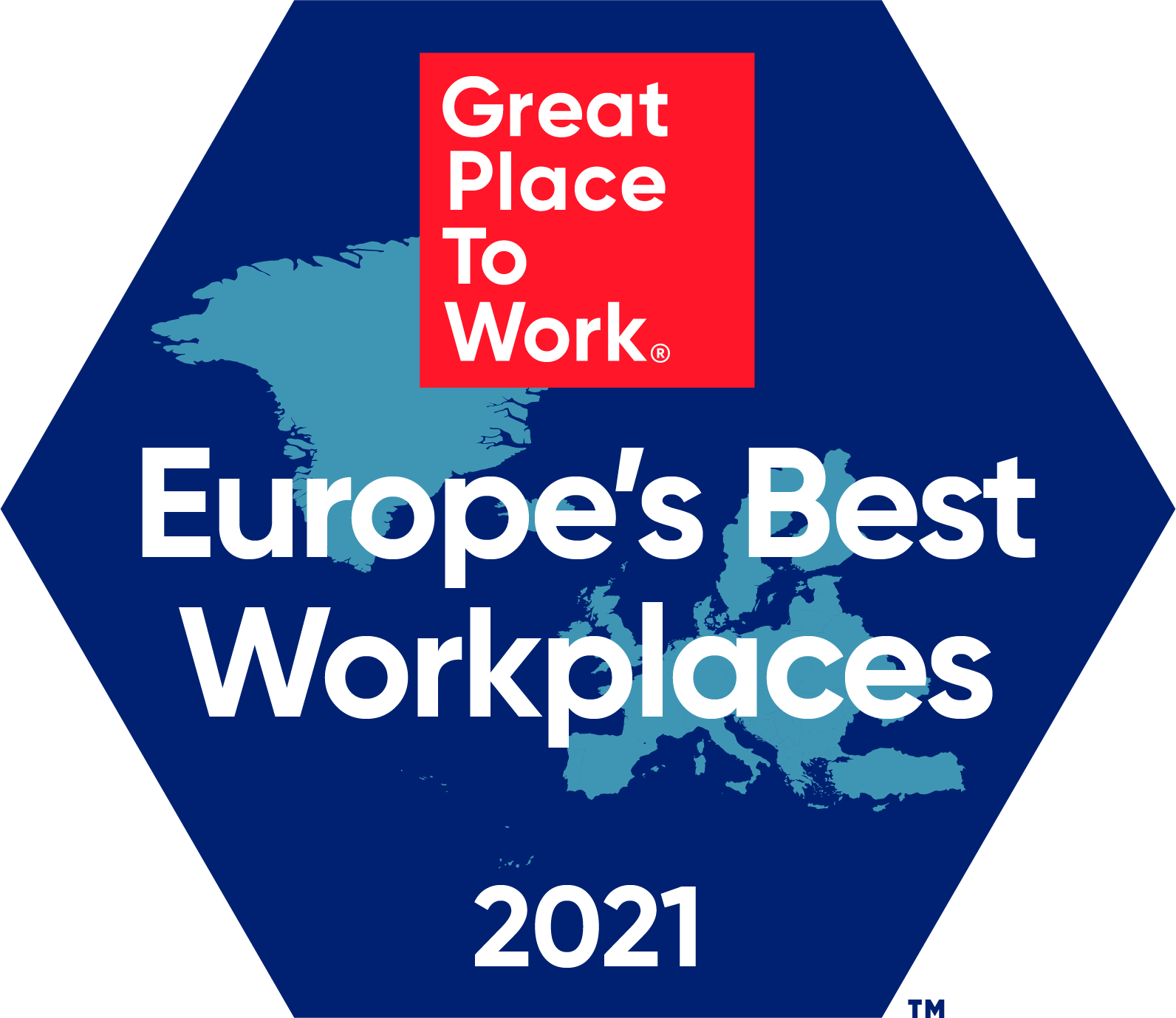 Vi är så glada och stolta över att kunna berätta att vi har blivit utsedda till en av Europas bästa arbetsplatser 2021 av organisationen Great Place To Work ®! De senaste fyra åren har vi varit med på deras listor över Sveriges bästa arbetsplatser och i år kammade vi dessutom hem en andraplats. Organisationerna som blir placerade i topp är sedan med och tävlar om en av de åtråvärda platserna på listan över Europas bästa arbetsplatser.
"Europas bästa arbetsplatser ™ har satt en ny standard för vård av medarbetare inom en mängd olika branscher" säger Michael C. Bush, CEO på Great Place To Work ®. "Dessa företag drivs av den typ av ledare som är stolta över att stödja sina anställdas behov. De skapar flexibla arbetsmiljöer där alla kan trivas, oavsett vem de är eller vad de gör för verksamheten."
"Wow! Inte nog med att vi under fyra år utsetts till en av Sveriges bästa arbetsplatser. Vi har nu också kommit in på listan över Europas bästa arbetsplatser. Det är ett stort erkännande av allt arbete vi lagt ner på att ha ett optimalt arbetsklimat och hög trivselfaktor. Vi är enormt hedrade och det utmanar också till att bli ännu bättre i framtiden." säger Per Sundbom, VD och grundare på Sundbom & Partners.
Resultatet i rankningen baseras till största del på vad medarbetarna tycker och tänker om arbetsplatsen.
"På Sundbom & Partners får jag möjlighet att utvecklas både professionellt och som medmänniska" säger en av våra medarbetare.
"Jag har redan från första början känt mig som hemma på Sundbom & Partners och stämningen är väldigt familjär" säger en annan medarbetare.
Se hela listan över Europas bästa arbetsplatser här>>
OM GREAT PLACE TO WORK
Great Place to Work® är en organisation som är globalt ledande i sitt arbete för arbetsplatsens kultur. Sedan 1992 har de undersökt mer än 100 miljoner anställda runt om i världen och utifrån dessa resultat kunnat definiera vad som gör en bra arbetsplats: förtroende. Great Place to Work verkar i mer än 60 länder. De hjälper organisationer att kvantifiera sin kultur och producera bättre affärsresultat genom att skapa en förtroendeingivande arbetsupplevelse för alla anställda. Allt de gör drivs av uppdraget att bygga en bättre värld genom att hjälpa varje organisation att bli ett bra ställe att arbeta, för alla.
---