Sundbom & Partners utsedda till en av Sveriges Bästa Arbetsplatser 2021!
Postad: 2021/03/25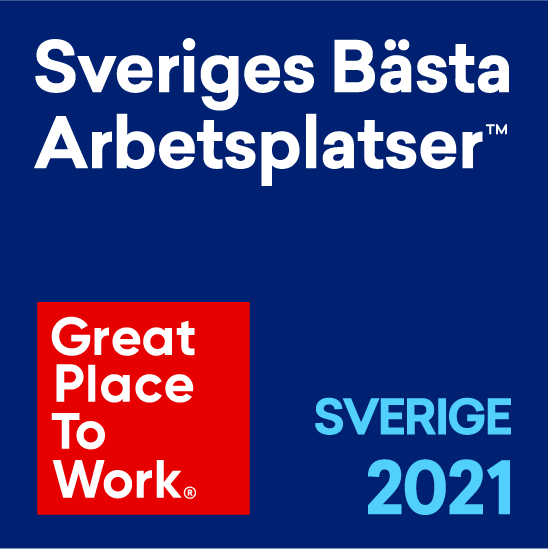 Vi har gjort det igen! För fjärde året i rad har Sundbom & Partners blivit utsedda till en av Sveriges Bästa Arbetsplatser av organisationen Great Place To Work. Man tävlar i kategorier baserade på storlek på organisation och vi ingår i kategorin Små organisationer (20 – 49 medarbetare). 15 lyckliga organisationer får en plats på den åtråvärda listan och i år kammade vi hem en pallplats då vi lyckades klättra från 4:e till 2:e plats!!
Det här är en utmärkelse som betyder oerhört mycket för oss då vår högsta prioritet alltid har varit att samverka för en arbetsplats med optimalt arbetsklimat och hög trivselfaktor.
Great Place To Work utser varje år Sveriges Bästa Arbetsplatser, framför allt utifrån resultatet från en omfattande medarbetarundersökning. Undersökningen är anonym och behandlar samtliga delar som rör arbetsplatsen. Visst känner vi oss trygga med att våra medarbetare trivs hos oss men det är ändå roligt att få se det så här svart på vitt. Vi jobbar på en av Sveriges bästa arbetsplatser 2021 och har dessutom Sveriges bästa medarbetare, om vi får säga det själva!
I år är det kanske lite extra roligt att få en utmärkelse som denna då det har varit ett minst sagt omtumlande år. Den fysiska arbetsplatsen har sett annorlunda ut då de allra flesta av oss har jobbat hemifrån. Vi har behövt anpassa oss efter nya rutiner och det sociala utbytet får vi numera i form av digitalt umgänge. Vanligtvis firas Sveriges bästa arbetsplatser med en stor gala med middag och underhållning, arrangerat av Great Place To Work. Men precis som förra året firar vi i stället digitalt tillsammans med våra kollegor.
Vi vill rikta ett stort tack till alla er som på så många sätt bidrar till att vi får äran att jobba på en av Sveriges bästa arbetsplatser! Vi är så oerhört glada och tacksamma, utan just er som medarbetare skulle det inte alls bli lika bra och vi skulle inte alls ha lika roligt på jobbet. Nu längtar vi bara efter att få ses på riktigt igen, vi hoppas att det blir snart!
Här kan ni läsa mer om Great Place To Work och se hela listan över Sveriges Bästa Arbetsplatser 2021.
---